Now, see, I am not and have never been a morning person, much to the frustration and chagrin of pretty much every morning person I know.
Or, everyone.
I just can't.
I have tried.
I've had very early morning jobs.
Early classes.
Nothing can or ever will break me of my night-owl-ish-ness.
Shrug
, what can I say?
I didn't ask to be a
night owl, I merely am.
I absolutely love screamingly bright, super glorious sunshiny days, can't get enough, but sunrises and up and at 'ems and early bird gets the worm business, neh.
Give me the peacefulness and
silence
and dark of night please.
So, ya know, as much as I love me some baking, popping up at the crack of dawn rip roarin' to conjure up a
breakfast
baked good feast to start the day out strong just ain't ever gonna happen.
Ever.
I'm not a coffee drinker
either so yeah, mornings, nmm mm,
bzzzz,
you're out.
I am a fan of prep-it-the-night-before French toast casseroles.
Yes, that is no problem.
Pop it in the oven the next day while Mike (Mike is our resident Master Breakfast Maker, I am Waffle Batter Assistant) is assembling all the other aspects?
That I can do.
Speaking of bread casseroles, feel free to use one of my
bread recipes
for such an occasion, say, if you can't get to a second loaf in time.
In fact, using the second loaf from the
Basic Bread
recipe, my mom did as much, using it successfully for the
Chocolate Bread Pudding
.
Oh, right!
Yes!
She baked bread for the very first time in her life!
I'm so proud!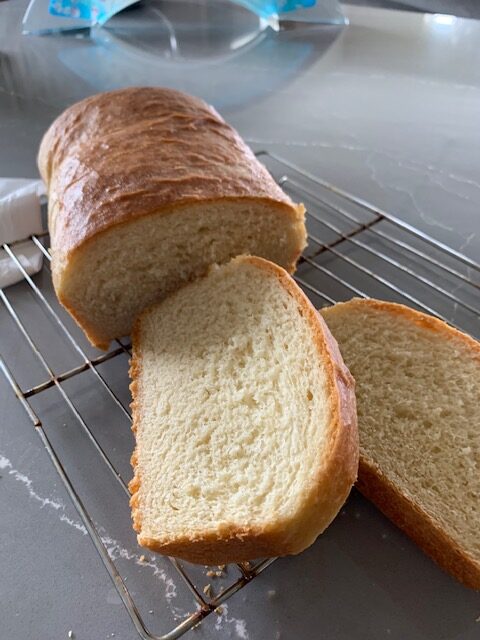 As I was saying, though.
Not a morning person.
Sorry not sorry.
This here recipe, these
Apple Pancake Bowls from Carlsbad Cravings
, are an easy morning baking compromise.
They are speedy and ragingly delicious all with minimal effort (read:
still come out fantastically even when groggy with pillow imprints on your face).

And bonus, you can prep two thirds of the recipe, actually the entire recipe, the night before so in the morning you can zip zip, have an incredibly tasty, stepped up breakfast in about a half hour!

Right?!?!
Honestly, I personally would wait to make the batter the day-of but prepping the apples and the oat crumble topping ahead is a time-saving boon.

Sooooo easy, and oh my gosh, as I said, sooooo delicious.
Ok, saute up the apples first in a skillet, tossing in the cinnamon, brown sugar, and butter.
Let that go until everything is nicely sticky and the apples have softened.
Now, you can set this aside if you're going day-of or pop everything in the fridge overnight.
Chop the apples any way you prefer; I find thin slices work well, thinner than depicted here. And there's the oat crumble topping ready to be mixed.
Next up, make the oat crumble topping.
Just toss everything in a bowl, yep, all in, then smush the butter into the ingredients much like you would if you're
making biscuits
.
And again, either set this aside or pop into the fridge overnight.
The pancakes are just as simple.
Dump everything sans the melted butter into a large bowl or a blender or a food processor, zip it around with a whisk or the machinery until everything is smoothly blended.
Absolutely this can be whipped up by hand instead of in a processor.* Done it many a time. Guess I was extra groggy here.
Add the melted butter, zip zip, you're done!
A couple more zips needed and as you can see this is sans melted butter but it looks exactly the same with the butter in it.
Split the batter between the twelve wells of a muffin pan that you greased up well…
I always fill each well up a bit then go back to even them up with remaining batter.
I have that spiffy
USA muffin pan
* and things rarely stick but for added security, I did do mine up with a little butter and dusted with flour.
You could try
paper muffin cups
* but I don't think they're going to work well in this situation so I would not recommend that.
I would recommend
baking spray with flour
* here.
Ok! Filled and ready to bake!
Mmmk, now just bake the little buggers for about twenty minutes or so.

If you chilled your apples overnight, take them out of the fridge and give them a slight reheat, enough, at minimum, to take the chill off.
When the pancakes are ready, they'll be ginormously, alien-ly huge and puffy and slightly golden around the edges.
Take the pan out of the oven, let those suckers deflate a little, and in the meantime, move a rack to the second from top spot and flip on the broiler.
Holy puff! Haha!
Top the pancakes with the apples then top everything with the crumble.
Uh yeah, it's gonna get super messy here.
Trust me, stay groggy here and you won't care about the mess that's about to happen.
Then just broil up the tops until everything is snap crackly browned, moving the pan around so things brown evenly (aka not burn and set off the fire alarm way too early in the day), then serve!
Keep a very close eye on these, they can burn quick under the broiler.
These are so good.
I kinda want one right now, mid-afternoon.
Who am I kidding, these would be awesome for breakfast-for-dinner or topped with ice cream for dessert!
Yes!

So I made this batch:
Me:
(scooping the lil' beauties out to serve) man, I sure hope these are as good as they were the last time….
Mike:
(glance of mild panic)

We sit down to eat.
Mike:
do you like them?
(Weird, usually it's me asking.
Must be morning.)
Me:
yeah, wow, they're really really good.
Better than I remember.
You?
Mike:
(looks me square in the eye)
Yeah. (pause pause) Yeah.
They're really good.
(high five's me)
Cleaning up he continues (huh, whaat?!), "thanks babe, those were really delicious."
Awww.
He's so sweet.
Note, there are very, very few breakfast things Mike will reheat leftovers of but this is one of them.
Mike endorsed!
What a way to start the day. Oh! Heavenly.
Happy morning (or late morning) to you!
Note: This content originally appeared on Flaky Bakers.
Apple Pancake Bowls
Perfect for a brunch or any ol' time, these individual German Pancakes topped with apples and toasty oat crumble will elevate your breakfast into the stratosphere.
Ingredients
Apples
2 apples (226 g) peeled and chopped, about 2 cups
2 tablespoons (28 g) butter
1/2 teaspoon (1.5 g) cinnamon
1/4 cup (53 g) light brown sugar, packed
Crumble
1/3 cup (71 g) light brown sugar, packed
1/3 cup (40 g) all-purpose flour
1/4 cup (22 g) old fashioned oats
1/2 teaspoon (1.5 g) cinnamon
3 tablespoons (42 g) unsalted butter, cold and cubed
Pancakes
1 cup (237 ml) milk
1 cup (120 g) all-purpose flour
6 large eggs
1/2 teaspoon (3 g) fine sea salt
1 teaspoon (5 g) vanilla
1/4 cup (57 g) unsalted butter melted, slightly cooled (4 tablespoons)
Instructions
Apples
Heat a medium skillet over medium heat and melt the 2 tablespoons of butter. Add the apples, cinnamon, and brown sugar, stirring to mix well. Cook until the apples have softened and the liquid thickens, about 8-10 minutes. Set aside or refrigerate overnight for serving the next day.
Crumble
Combine all the crumble ingredients, the brown sugar, flour, oats, cinnamon, and cold cubed butter in a medium bowl. Work the butter into the ingredients with a pastry cutter, a pair of forks, or your fingers until the mixture resembles crumbs. Set aside or refrigerate overnight for serving the next day.
Pancakes
Begin preheating the oven to 400° F (204° C). Grease a 12 well muffin pan well with floured baking spray, butter then dusted with flour, cooking spray then flour, or butter in combination with cooking spray.
Add all of the pancake ingredients except for the melted butter, the milk, flour, eggs, salt, and vanilla into a large bowl, a blender, or a food processor and whisk or blend until everything is well combined. Add the butter and whisk or blend again.
Divide the batter between the 12 wells of the muffin pan and bake for 20 minutes on the middle rack or until the edges are golden brown. They will puff tremendously in the oven then collapse when removed.
Remove the muffin pan from the oven when the pancakes are ready. Move an oven rack to the second spot below the top and turn on the broiler.
Top the pancakes with the sautéed apples divided evenly then top each apple-topped pancake with the crumble.
Place the muffin pan under the broiler until the crumble browns nicely, rotating and shifting the pan as necessary for even browning.
Serve immediately.
Please see the "info" section for nutrition details and information about gram weights.
breakfast, brunch, apple pancake, German pancake
recipes
American
*The food processors, USA muffin pan, paper muffin cups, and baking spray with flour are Amazon affiliate links. Happy baking, thanks! Please see the "info" tab for more, well, info.