Yes, you read that right, Apple Pie Drop Biscuits with Melted Ice Cream Glaze, uh huh.
You're probably all "what the what?!"
This awesome concoction is a collaborative effort, a first ever for me and it was fantastic, truly a bundle of fun.
Over on the
Instagrams
not too long ago, I received a message from Lance of
Biscuit & Counter
inquiring if I'd be interested in creating a new drop biscuit with him.
He'd provide the biscuit recipe and together we'd come up with a variation.
How cool, right?

Lance is an accomplished chef
(Lance!!
Ten Best New Chefs in Food & Wine?!?!
I didn't know! Omg!!) and he's been hard at work learning about biscuits, having taken lessons from Carrie Morey of Callie's Hot Little Biscuits and Scott Peacock via a Blackbelt Biscuit Experience class.
Lance has since been developing his own biscuit recipes along with jams, relishes, and pickles and now I'm so hungry.
His plan is to open a biscuit sandwich shop in Palm Springs and I have never wanted a mid-century modern house more so that I could eat there daily.
Right?!
That he so generously wanted to share his own personally developed recipe with me and work together…I am extremely honored and flattered.
After a flurry of emails and a few phone calls and texts and ideas bantered about, such a super nice guy by the way, I know we'd be great pals if we lived closer, we came up with Apple Pie Drop Biscuits with Melted Ice Cream Glaze and indeed they are as delicious as they are outrageous.
Raaawwwwrrrr, yum!!
I've never really made drop biscuits, mostly
the cut/shaped type
, and Lance felt it was an oversight our site that needed correcting, to which I agreed.
In trying to run the memory lane of my baking past, I've maybe made them all of once or twice.
Why not is beyond me, they're so easy.
Stir.
Drop.
Bake.
Lance's drop biscuit recipe is sublime.
The first time I made them following his recipe to a tee which includes shortening, Mike shot me
That Look
, that "I thoroughly cannot believe the goodness that has just entered my mouth" look. "These are better than
yours
," he blazoned, with a quick glance to make sure I wasn't going to kill him.
Now, yes, shortening.
I think this may have been the first time I've ever used it; it's not an ingredient I would normally employ as a matter of personal preference but I wanted to sample his hard work as written.
The shortening did in fact make for incredibly fluffy biscuits that stayed fluffy for days. That we had biscuits leftover is shocking, I know.
The only changes I made were in method but as bakers, we all have our ruts, our ways of doing things.
My next round of Lance's biscuits was all butter and not only were they fabulous as well, I learned a valuable drop biscuit lesson:
make sure your butter is smaller than pea-size to avoid it leaking out while baking.
You may still get some melted butter leak but in the end, you'll nevertheless have faboo biscuits.
I was in charge of creating the apple pie portion and somehow shockingly, I got it 95% of the way on my first go.
Off to Lance the version went for his testing and he approved right off.
Nice!
Such the approval was, he sold them in one of his recent
#bakersagainstracism
bake sales.
So if you're in the Palm Springs area, absolutely
follow him on Instagram
for his weekly offerings and where his biscuits can be inhaled.
And then report back to me on how heavenly they are so I can be ragingly jealous.
So right, Apple Pie Drop Biscuits with Melted Ice Cream Glaze.
This is as easy as it is yummy, don't let the lengthy name weird you out.
It's a delicate, airy, buttery biscuit meshed up with warmly spiced apples.
And boy, I'll tell ya, they are mighty fine.
Start by sautéing up the apples with the pie spices and brown sugar.
I slice these relatively thin but feel free to make them chunkier or diced.
Do make sure they're cooked through pretty well since bake time is short.
Chill those completely.
Biscuit time!
Mix up your dry ingredients in a large bowl and chop in the butter with a
pastry cutter
,* your fingers, or two forks.
Smaller than pea-sized butter my friends, very important.
This is one biscuit recipe where I'd consider a
food processor
,* just be mindful not to over-process.
You're looking for smaller than pea-sized butter chunks, about lentil-sized and crumbs.
Dump in the chilled apple mix and the buttermilk and follow Lance's suggestion, stir twelve times (one or two give or take are allowed), big sweeping folds.
This is exactly just enough to mix everything without over-mixing.
Drop and pour.
This might have been thirteen stirs but only because I had a wimpy one.
If you happen to have a
#16 scoop
,* you can use that or grab a 1/3 cup measuring cup.
You can lightly grease them but I don't; it may be messier to scoop that way but such method results in a super craggy exterior.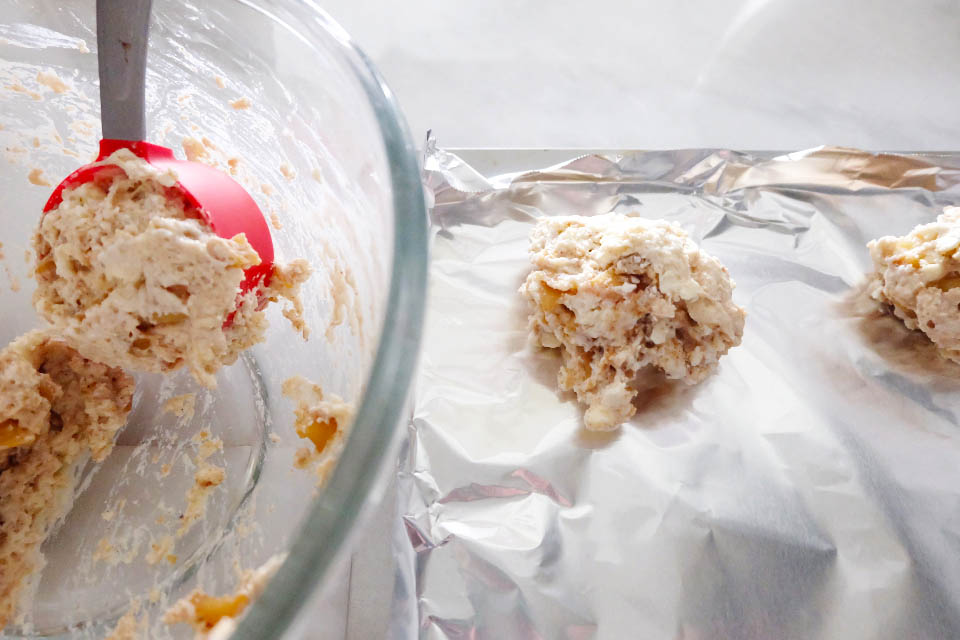 Place the biscuits on a baking sheet with foil on top, turning the edges up in case the butter leaks (I've set off the fire alarm twice not doing this) or a
rimmed baking sheet
.*
Best practice: line a rimmed sheet with a
silicone mat
* or parchment paper.
Set them close or nestled together for softer sides or a few inches apart for more crunchy sides, a la the
Currant Scones
.
Bake.
Enjoy that pie-y biscuit-y aroma, spin the pan, bake a couple minutes more until they're lightly golden brown.
Yeah. Yeah. Stand alone, no glaze, and these suckers are glorious!
Ok, let these cool completely on a rack and while those are cooling, scoop your ice cream and let it melt.
You can also melt it in the microwave if need be but the sitting out works well.
Stir together the melted ice cream and powdered sugar, make sure the sugar is dissolved, then drizzle about a little over a teaspoon onto each biscuit.
[droooolinggg]
Yeah.
No joke.
Yum. You, my friends, are welcome.
Oodles of leftover vanilla ice cream?
No problem, make some
Cocoa Hot Fudge
!
Win, win, and win!
So thank you, Lance.
Thank you.
Here's wishing you all the continued successes you most definitely deserve!
Note: This content originally appeared on Flaky Bakers.
Apple Pie Drop Biscuits with Melted Ice Cream Glaze
A glorious, buttery, fluffy drop biscuit meets apple pie and an ice cream glaze that can't be beat.
Ingredients
Apples
2 tablespoons (28 g) unsalted butter
2 cups (226 g) apples thinly sliced (about 2 medium sized apples)
1/4 cup (53 g) brown sugar
1 1/2 teaspoons (4 g) cinnamon
1/4 teaspoon (0.65 g) nutmeg
healthy pinch allspice
Biscuits
8 tablespoons (113 g) cold unsalted butter (1 stick; 1/2 cup)
2 1/2 cups plus 1 tablespoon (308 g) all-purpose flour
1 tablespoon (12 g) baking powder
1/2 teaspoon (3 g) baking soda
1 tablespoon (12 g) granulated sugar
1/2 teaspoon (3 g) fine sea salt
1 1/4 cups (355 ml) cold buttermilk
Glaze
1/4 cup (38 g) vanilla ice cream, melted
1/2 cup (57 g) powdered sugar, sifted
Instructions
Saute the apples in the butter for about 5 minutes, until almost softened. Add the brown sugar and spices, cook for another 2 minutes. Chill in the refrigerator until completely cold.
When the apples are cold, slice the butter into cubes and chill in the freezer for 10 minutes. The butter can also be placed in the freezer as a whole stick then grated.
In a large bowl, combine the flour, baking powder, baking soda, sugar, and salt. Add the butter and work it into the dry ingredients with a pastry cutter, your fingers, or a pair of forks. This can also be blended in a food processor; be judicious and pulse only a few times. Blend in the butter until it's smaller than peas, about lentil-sized.
Pour in the buttermilk and add the well-chilled apple mixture. Fold gently with a large spatula only about 12 times, until the batter is just barely mixed. This avoids over mixing.
Line a flat cookie sheet with aluminum foil and fold up the edges or set a silicone baking mat in a rimmed baking sheet.
Using a #16 scoop or a 1/3 cup measuring cup lightly sprayed (or not for more craggy biscuits), scoop the batter and form mounds on the baking sheet. Place them a few inches apart for crunchier sides or close together for softer sides.
Place the baking sheet in the refrigerator for 15 minutes.
Set a rack in the oven at the upper 2/3 position, one below the top, and preheat the oven to 425° F (220° C).
Bake the biscuits for 15 minutes. Rotate the pan and bake for 3-4 more minutes, until the biscuits are nicely golden brown, totaling about 18-19 minutes.
Remove the biscuits to a cooling rack and cool completely. While the biscuits are cooling, scoop the ice cream and let it melt in a small dish.
Once the biscuits are cool, combine the melted ice cream with 1/2 cup sifted powdered sugar. Drizzle about 1 teaspoon (food spoon) over each. Serve.
Notes:
Note you can make Lance's biscuit recipe by omitting the apple pie and glaze portion. To make his exact recipe, substitute half of the butter with half shortening.
Lance's biscuit recipe is printed with his permission. The apple pie portion was inspired by several sources and the melted ice cream glaze is my own invention.
Nutrition Facts
Sodium (milligrams)
256.74
Please see the "info" section for nutrition details and information about gram weights.
biscuits, drop biscuit, apple, apple pie
recipes
American

*The pastry cutters, food processors, scoops, baking sheets, and silicone baking mats are Amazon affiliate links. Happy baking, thanks! Please see the "info" tab for more, well, info.